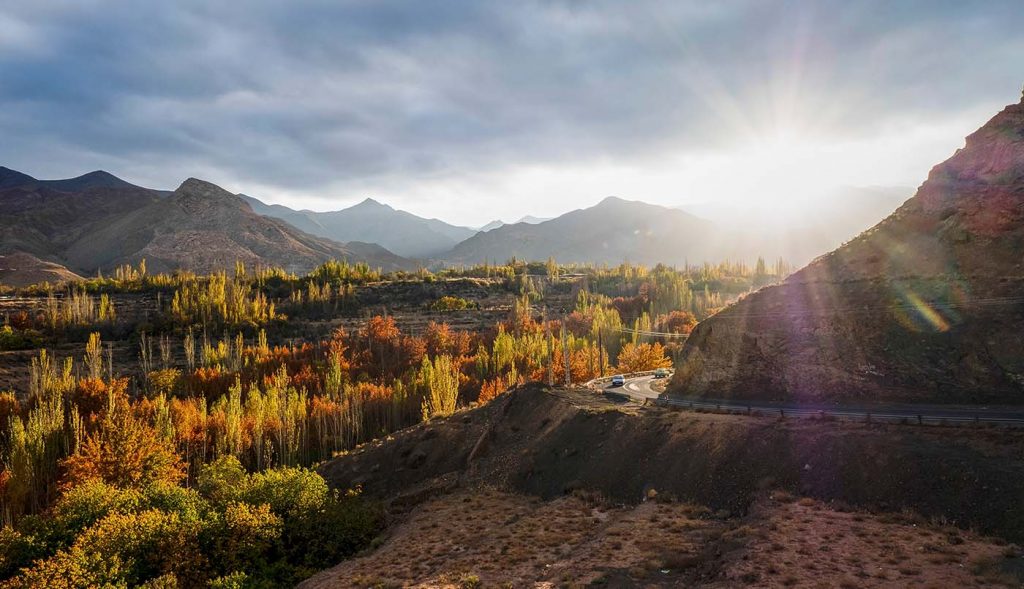 Finnish Datahub
In Finland, Finnish Datahub, a centralized information exchange system for the electricity retail market will be taken into use on February 21, 2022. This will also have an impact on the imbalance settlement services provided by eSett.
The main changes are:
Datahub will take over several responsibilities and activities from the Distribution System Operators (DSOs) regarding distribution grids:
Reporting and sending consumption and production values to eSett
Structure handling
Reporting metering grid area imbalance values
DSOs will still be able to view and order data packages in Online Service for the Metering Grid Areas (MGA) that Datahub administers but not to update information. Reporting and structure handling of other types of grids than distribution grids is left to the DSOs responsible for the MGAs.
eSett will add the Datahub in Online Service in the end of January. After the Datahub has been created in eSett's system the DSOs will not be able to make any structural changes in Online Service for days after the go-live 21.2.2022.
During the implementation new market party, MGA and normal Production Unit (PU) codes have been taken into use for the Finnish market. Here you can find the changes:
New market party and MGA codes
As the last step, during the beginning of February 2022, eSett will implement new virtual PUs with new codes that match the ones used in Datahub. The old virtual PUs will be terminated after a successful Go-live.
Due to these changes, Market participants must make sure that they are able to report and receive values to/from eSett with the GS1 coding scheme.
Timeline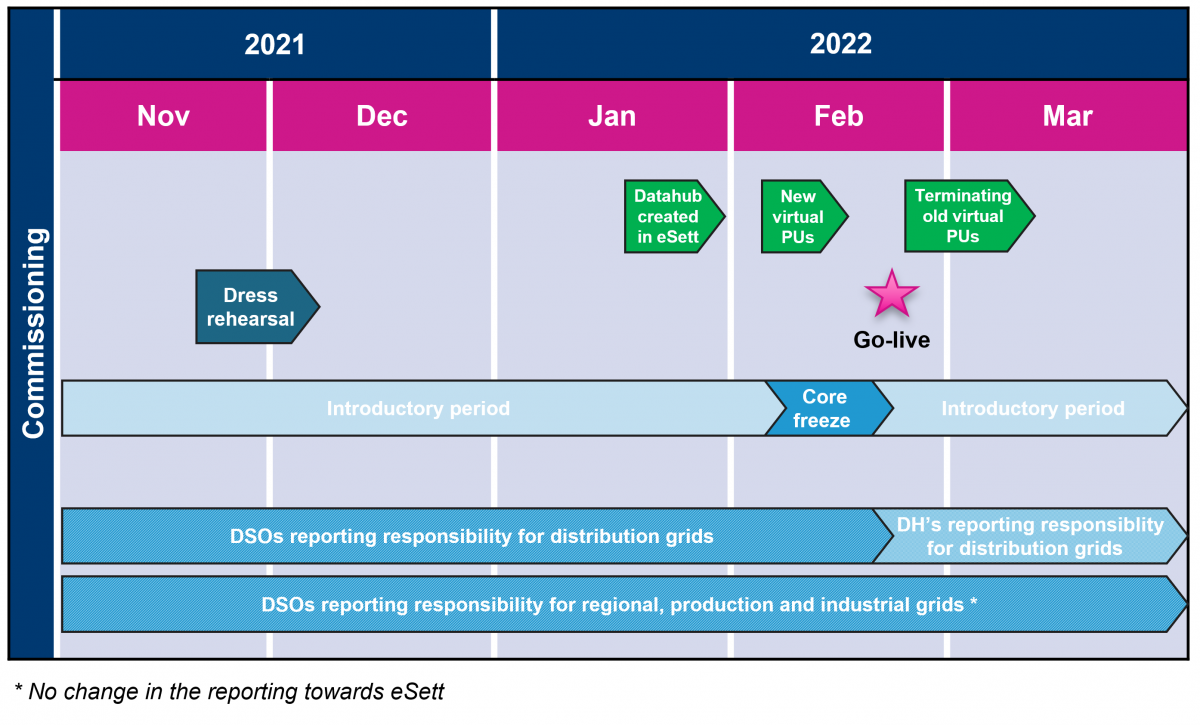 Dress rehearsal: 22.11.2021-7.12.2021
Overall freeze period lasts from 1.11.2021-31.3.2022
eSett will add the Datahub in Online Service during week 4
Core freeze period lasts from 10.2.2022-17.2.2022
eSett imports the new virtual PUs from Datahub during week 7
Go-live: 21.2.2022
eSett terminates the old virtual PUs during week 9
Overall freeze period 1.11.2021-31.3.2022
During the overall freeze period, new market participants cannot enter the Finnish electricity retail market and market participants already operating in the retail market cannot divide or terminate their operations. Also, it is not possible to make changes to the Metering Grid Areas (MGA) of the distribution networks, including the creation of new MGAs or the merging or division of existing MGAs into several MGAs.
Core freeze period 10.2.2022-17.2.2022
During the core freeze period, the following changes are not allowed:
Relationship changes between suppliers and balance responsible parties (Retailer Balance Responsibility)
DSO may not take into use new MGA exchange points to a parallel network in which it does not yet have any exchange points (MGA Exchange structure)
No new Production units are allowed to be created
Retailers can't start to sell in an MGA, where they do not have had sales (taking the measurement type into account):

Measurement type: profiled or metered
Change of Imbalance retailer, retailer of PU's own consumption and retailer for losses are not allowed
More information can be found in Datahub's technical go-live plan in Finnish or English.
Reporting around Go-live
DSOs are only allowed to report values to the distribution grids for the days that are before the go-live. From 21.2.2022 00:00 EET, Datahub takes over the reporting responsibility from the DSOs. If a DSO tries to report data for the go-live date of 21.2.2022 or for days after that, the messages will be rejected. Only values that are sent by the DSOs that affects the days before 21.2.2022 will be accepted. All the DSOs that have other grids than distribution grids, must ensure that their messages to eSett do not contain values that are meant for distribution grids for days after the go-live.
The same applies for structure changes. DSOs can only create production units or consumption series to distribution grids for the period before go-live. After the go-live, it will be the Datahub that creates and maintains the structures in distribution grids.
During the go-live, there will be a 10-day period during which both Datahub and DSOs report data to eSett as demonstrated in the picture below.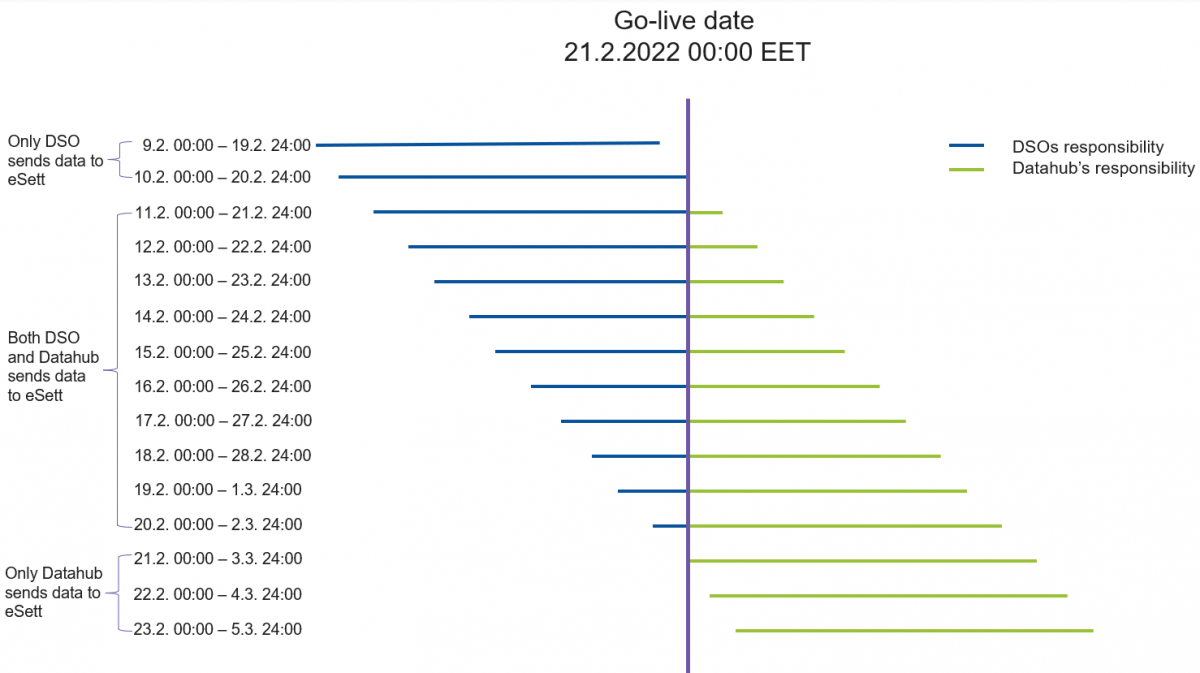 After go-live, Datahub will report values to eSett for the whole open period of D+2 – D+12 once a day between 1 AM and 3 AM. If the DSOs sends updated vales to Datahub during the day, the values will not be visible in Online Service until Datahub has reported them to eSett during the following night.
More information on the Finnish Datahub is available on Datahub | Datahub Services.
We recommend subscribing to our newsletter to learn more about the upcoming changes in the market.