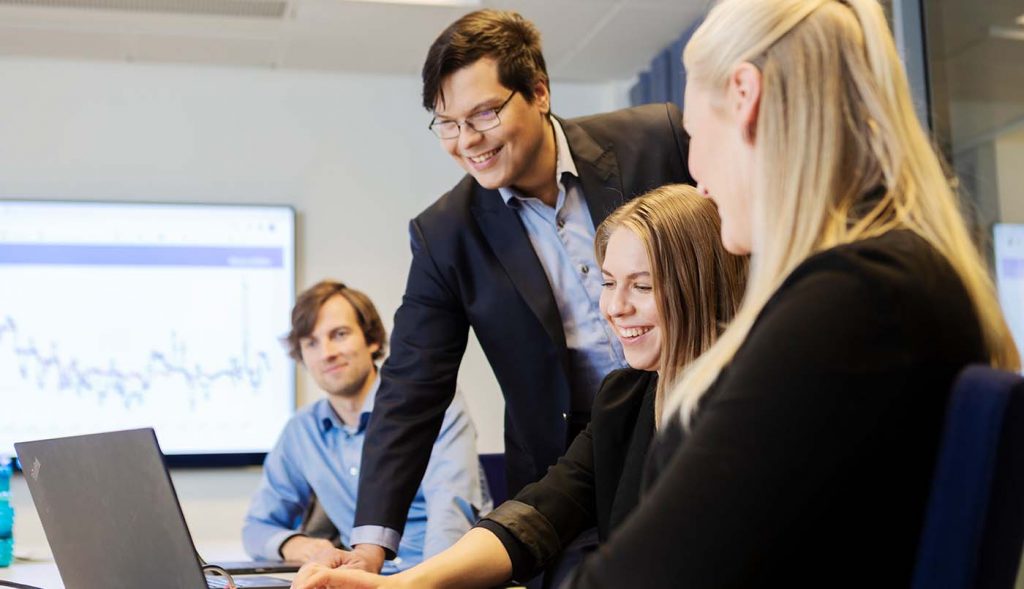 eSett in Brief
This is eSett
eSett provides imbalance settlement services to over 1,000 electricity market participants in Denmark, Finland, Norway, and Sweden.
Our team of professionals carries out the imbalance settlement on behalf of our customers effectively and reliably, so the market participants can focus on their core business. We help our customers to succeed in their operations with our services, so we always aim to be the forerunner in providing advanced services for the energy market across borders.
As an accountable company, we also work hard to help the electricity market transition to a cleaner world by developing our services to support new ways of working.
We are a small and young team with a great spirit. We provide an inspiring and empowering work environment, offering development opportunities and encouraging people to become experts in their fields. We provide a ringside seat of the whole Nordic electricity market and its development, so eSett is a great place to grow and develop your skills as a professional.
eSett operates with the mandate of its owners, the four Nordic Transmission System Operators – Energinet (Denmark), Fingrid (Finland), Statnett (Norway) and Svenska kraftnät (Sweden) – which have equal shareholdings. Our headquarters are in Finland, and we started our operations in 2017.
What is Imbalance settlement?
In the electricity market, the production and use of electricity should always be balanced. Each balance responsible party must plan their operations and strive to maintain this balance. But in practice, there will always be deviations from the plans; these deviations are called imbalances.
eSett calculates imbalances for each Balance Responsible Party (BRP) and makes sure each party is paid and invoiced correctly. A BRPis defined as a company that has a valid Imbalance Settlement Agreement with eSett and a valid Balance Agreement with a TSO and manages a Balance Obligation on its own behalf as a producer, consumer or trader of electricity or on the behalf of other producers, consumers or traders of electricity. A list of active BRPs' in the Nordic electricity market is available on our Public Data portal.
Imbalance settlement is based on a harmonized model throughout the Nordics, so the operating conditions are the same for all Balance Responsible Parties. This increases competition on the Nordic markets. So, we are indirectly helping make electricity market operations more efficient to the benefit of the consumers in our countries.
You can learn more about eSett and imbalance settlement from this animation and from the Nordic Imbalance Settlement Handbook.